SATURDAY APRIL 28, 2018 –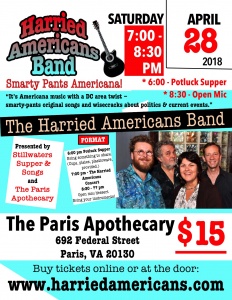 Chris Anderson &
The Harried Americans are going to Paris!!
Paris, Virginia, that is. PLUS Paris, Virginia  is a LOT easier to get to  than Paris, France! It is two miles away from the beautiful Sky Meadows State Park!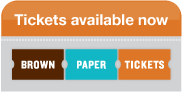 Many  thanks to our presenters: Stillwaters Supper and Songs  and The Paris Apothecary.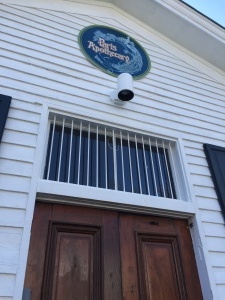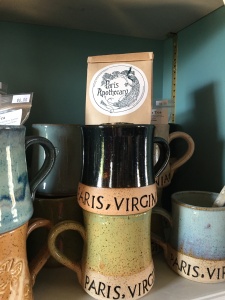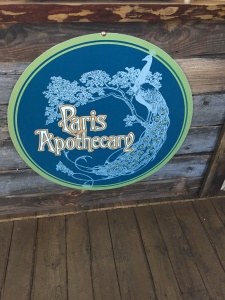 This is SUCH a cool place. The Apothecary is a few steps away from the church building where the concert will be held.
You can buy tea and coffee and souvenirs and lots of cool items in the Apothecary.  And, if you want to spend the night after the concert, The Ashby Inn is right there, too!
Stillwaters Supper and Songs is a monthly concert series hosted by Stillwaters Foundation volunteers Mary Shapiro, Jeff Wolf and friends to "build community and create Peace through Music".
Here is how this fun concert series is structured:
6:00pm – Potluck Supper (bring a dish to share)
7:00 – 9:30 pm  – Concert by the Harried Americans Band
9:30 pm -??? –  Open Mic/Jam ( This is a chance to share YOUR songs – so bring your instruments.)
Please join us for this fun community event!
Date/Time
Date(s) - 04/28/2018
6:00 pm - 10:30 pm
Location
Paris Apothecary
Categories