Harried Americans Roadshow Reston, VA: W/ Musical Guest Shawna Caspi (Canada), Songwriter Chris Anderson, Comedian Patti Bailey, Poet Rod Deacey & The Harried Americans Band (Chris Anderson, Ron Goad, Mark Johnson & Niels Jonker)
************************************
This is the final  HARRIED AMERICANS ROADSHOW in Reston for 2019! So if you want to see us… now is the time.  2020 schedule to be announced soon.
Increased ticket price for this show.

*****************************************
* The Harried Americans Roadshow is a variety show with a D.C. area twist: original songs and wisecracks about politics and current events! Featuring guest artists, comedy, poetry and the smarty-pants Harried Americans Band, these shows are loosey-goosey fun! It's "… a Gen-X, Baby-Boomer, Smarty-Pants, Americana Variety Show…right in suburbia."
* Toronto-based singer-songwriter Shawna Caspi performs solo but there's a whole band under her fingertips. She believes in poetry and the power of one person and one instrument, accompanying herself with a remarkable lyrical fingerpicking guitar style. Shawna strives to be unafraid, to embolden quieted voices, to tell the truth above all else.
* Harried Americans songwriter Chris Anderson is best known for her political satire & smarty-pants originals about social issues, though she also writes about love and the human condition. Winner of a 'GRAMMY in the Streets' and a 'Mid-Atlantic Song Contest' for her songwriting, she plays guitar and harmonica. She is the producer of Harried Americans RoadShow.
* Harried Americans drummer & emcee, Ron Goad, has won 7 WAMMIE awards for his support of local musicians and locally produced shows. He produces and supports numerous shows and acts in the DMV.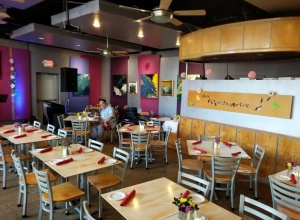 Cafe Montmartre is a "Buzzy bistro serving French cuisine in colorful, airy quarters with a patio featuring lake views."  Check out this  dinner menu! PLUS… full bar. *******************
Date/Time
Date(s) - 10/25/2019
7:00 pm - 9:00 pm
Location
Cafe Montmartre
Categories