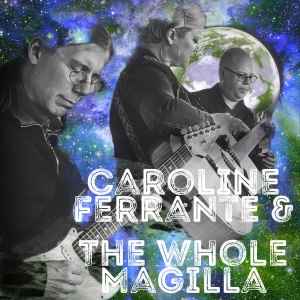 This show will be really fun! The Harried Americans Band… comedienne Patty Bailey…poet Rod Deacey and…
Featured Artist: Caroline Ferrante & The Whole Magilla 
Yow!
Caroline Ferrante grew up on the south side of Chicago, studied theater and voice at Northwestern University, and spent summers on family farms in Kansas. She opened for the Birds of Chicago in 2011 and played the leading role in "Rain Follows the Plow: A Dust Opera" at DC's Atlas Performing Arts Center, to national acclaim.
Cabbage Run Records produced Caroline's first CD, "Live from the Belfry", in June 2014. DC Concerts wrote "Caroline's stunning vocals, three-octave range, signature 12-string guitar, and crossover songwriting pack a powerhouse punch on the DC live music scene!"
April 2015 Caroline began her Artist in Residency at DC's famous Mansion on O Street, featured on the Travel Channel's "Mega-Mansions". Her podcast features frequent guest spots for some famous travelers through the colorful Georgetown artist haven. She shared the stage with Grammy and Academy Award winners like Paul Williams, Mark Bryan of Hootie & the Blowfish, Tom Constanten of the Grateful Dead, & Eagles songwriter Jack Tempchin.
Caroline advocates for survivors of assault, abuse, and intimate partner violence. She founded Songwriters Against Sexual Assault in 2015, and leads annual "Brighter Day" Workshops, Concerts, and Conversations on college and university campuses.
In 2017 Caroline joined Jim Ellis on lead and John Dahlman on bass as "The Whole Magilla". The band has quickly moved up the ranks: showcased at Singer-Songwriter of Cape May Festival, Northeastern Folk Alliance NY, Dewey Beach Music Festival, Clarendon Day Festivals, Takoma Porch Festivals, Silvana (Harlem), Bushwick Publick House (Brooklyn), Lovecraft NYC (Lower East Side), & Montgomery College Cultural Arts Center.
***********************************************************************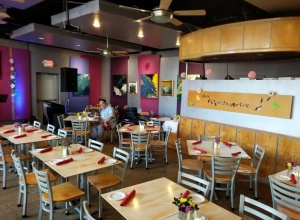 Cafe Montmartre is a "Buzzy bistro serving French cuisine in colorful, airy quarters with a patio featuring lake views."  Check out this  dinner menu! PLUS… full bar. *******************
Date/Time
Date(s) - 05/25/2018
7:00 pm - 9:00 pm
Location
Cafe Montmartre
Categories